Opera was alive and online throughout Europe, and beyond!
The now traditional European Opera Days took place between 8 and 10 May with 101 opera companies in 23 countries celebrating opera in all its diversity.
This year's theme – opera alive and online – translated into the most creative events alongside the well-loved guided tours and open houses. The launch of The Opera Platform (www.theoperaplatform.eu), offering free access to full opera performances, extracts and behind the scenes peaks, reinforced the message, and it is a pleasure to say that opera was very present and easily accessible for all.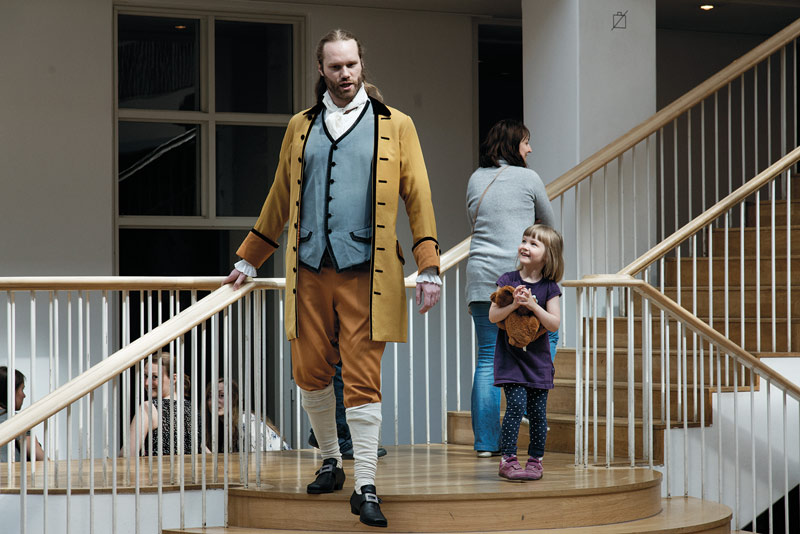 This year's European Opera Days activities ranged from the free streaming of GöteborgsOperan's Hänsel und Gretel to Opera de Oviedo's opera emoticon competition; from Opéra royal de Wallonie's Discover your voice workshop to Perm Opera and Ballet Theatre's guided tours from the pit to the ballet rehearsal room; from Teatro Regio di Parma's Verdi! puppet show at Palazzetto Eucherio Sanvitale to Badisches Staatstheater Karlsruhe's Opernball. In France, over 100.000 people were invited into 29 opera theatres.
The next European Opera Days will take place on 7-8 May 2016. It will be the tenth edition of this great PR exercise for opera. The theme will be announced in the early autumn.
European Opera Days
Each year on the weekend closest to 9 May (Europe Day), opera houses in Europe and beyond open their doors to new and existing audiences to celebrate the art of opera and the talent of those who make it.
The European Opera Days celebrate opera as an art form.
Their aim is to help bring opera into the mainstream of cultural practice and to enhance its appreciation in today's society. Opera companies were invited to:
- organise free activities for existing and new audiences: creative workshops, guided tours, debates and lectures, open rehearsals, special performances or happenings
- design their activities around a specific annual theme
- include the European Opera Days logo on all their communication tools (posters, flyers, press releases, website, etc) and mention the European Opera Days as an umbrella initiative in their local events. They should provide a link to the dedicated website www.operadays.eu wherever possible
- convey the press material prepared by the EOD team to their local and national press
- coordinate their action and communication with other participating opera companies in their country
- involve as many departments as possible within the company, celebrating the contributions of all to this form of art. To enhance internal and external communication with the European Opera Days team, a coordinator should be selected within each opera house
- work with local associations in order to implant opera firmly in their social environments and attract new audiences
The Opera Platform is launched
- free, live and on demand
www.theoperaplatform.eu
On Friday 8 May 2015, the online community discovered a new platform entirely dedicated to opera. It aims to attract those who already love opera and those curious to try it for the first time.
The European Commission's Creative Europe programme supports this new website created by a partnership led by Opera Europa, the European association of opera companies and festivals, with cultural broadcaster ARTE and fifteen opera companies: Austria: Wiener Staatsoper; Belgium: La Monnaie/De Munt Bruxelles; Finland: Finnish National Opera Helsinki; France: Festival d'Aix-en-Provence, Opéra national de Lyon; Germany: Komische Oper Berlin, Oper Stuttgart; Italy: Teatro Regio Torino; Latvia: Latvian National Opera Riga; Netherlands: Dutch National Opera Amsterdam; Norway: Den Norske Opera og Ballett Oslo; Poland: Teatr Wielki Opera Naradowa Warsaw; Spain: Teatro Real Madrid; United Kingdom: Royal Opera House Covent Garden, Welsh National Opera. This multinational partnership opens new perspectives for opera's reach in Europe and beyond.
The Opera Platform is available in three languages – English, French and German – and offers free content, rich in information: full opera performances and extracts; synopses and background material; artist interviews and behind-the scenes documentaries. The opera houses of Europe invite you to discover their archives and their current productions.
The European opera season of the platform adds at least one new opera per month, subtitled in six languages – English, French, German, Italian, Polish and Spanish – and available on demand for six months. New additional content regularly enriches the offer.
The Opera Platform was launched with the live transmission from Madrid's Teatro Real of La traviata. Further showcase operas in the launch month will include Król Roger from Royal Opera House Covent Garden, Kullervo from Finnish National Opera Helsinki and Valentina from Latvian National Opera Riga.
The Opera Platform comes to life for the celebration of the ninth edition of the European Opera Days, under this year's theme 'Opera alive and online'.
www.facebook.com/TheOperaPlatform
@OperaPlatform #TheOperaPlatform